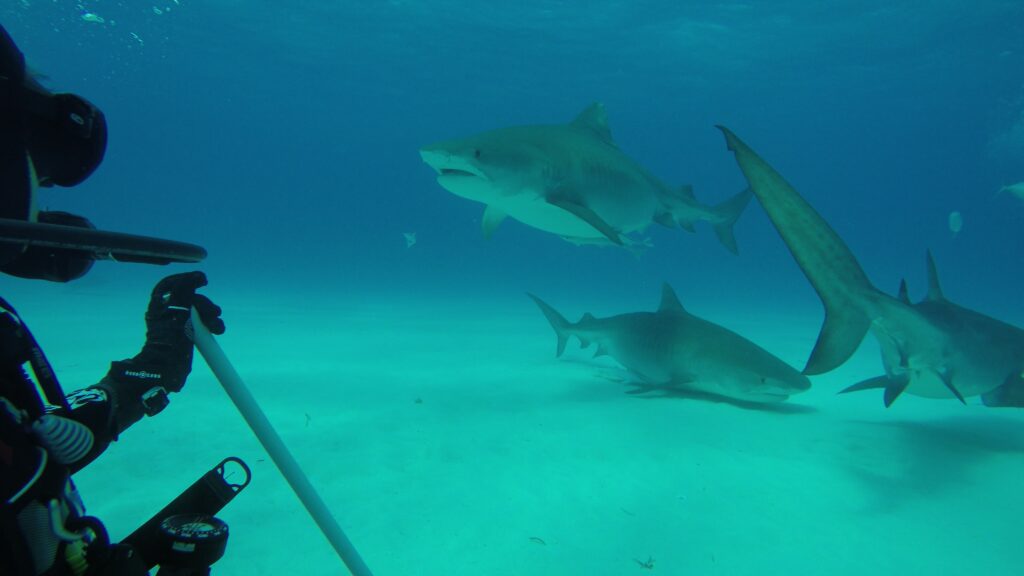 On returning to the UK after my first job in the Seychelles, I was faced with the task of where next!  Being a PADI instructor gives you access to the PADI jobs board, so I spent my free time scrolling through and applying for any job that looked good and based in a location I would consider going.  However, as a fairly new instructor who spoke only English, I was probably on the bottom of the pile! After a while of unreturned applications, I decided the best way to get a job in this industry was in person. So I looked at the countries I would most like to live/work and decided to take a holiday to sus out the dive centres there. … but where to, when the world is such a large place.  Eventually I narrowed it down to either Palau or The Bahamas.  Palau is known amongst divers as the best diving in the world due to its diverse marine life and temperate waters.  The Bahamas is known for its abundance of sharks, also temperate waters and, for me the bonus that English is generally the chosen language.
I walked into a travel agents to look into options and happened to be speaking to a Bahamian. Incidentally, not only did she persuade me on Bahamas over Palau but she also ended up moving back to Bahamas permanently. I was the sharks I think that won me over once again. In my opinion, there are two methods to shark diving: Natural and forced (ie the sharks are being baited or fed). I have always held the opinion that I am in favour the former and see the latter as bad practice. There is a large amount of controversy surrounding shark feeding/baiting. I feel personally that I do not have enough knowledge or experience to hold a valid stand on either side of this argument. Using my trip to the Bahamas I could experience first hand what shark feeding involves and why it is done.
The Bahamas is a made up of many islands, and I was told that island hopping was relatively easy and inexpensive, so I booked a hotel for my first and last nights and set my itinerary as I went. The plan was to dive in as many dive centres as I could. My first port of call was Reef Oasis Viva Bahamas located within the hotel on Grand Bahama Island. I booked in for a double dive and subtly gave them my card in case of any job openings. This was my first experience of diving in the Bahamas and I was, needless to say very impressed. I was one of five other divers with our guide. I was told I could jump in when I was ready and meet the rest of the group at the bottom. As I descended down the line in the crystal clear warm waters, I was approached by 2 reef sharks. I headed further down, let go of the line and settled near the bottom, only around 7 meters. It was a beautiful moment being alone and able to watch the sharks meander around me. When the rest of the group joined me we headed off on our dive. We were able to swim amongst several of these beautiful sharks and their calmness and beauty was evident. I was amazed by the amount of sharks in the water and their natural curiosity towards us, despite the fact that there was no bait used at all. It was an absolutely lovely two dives to start my holiday.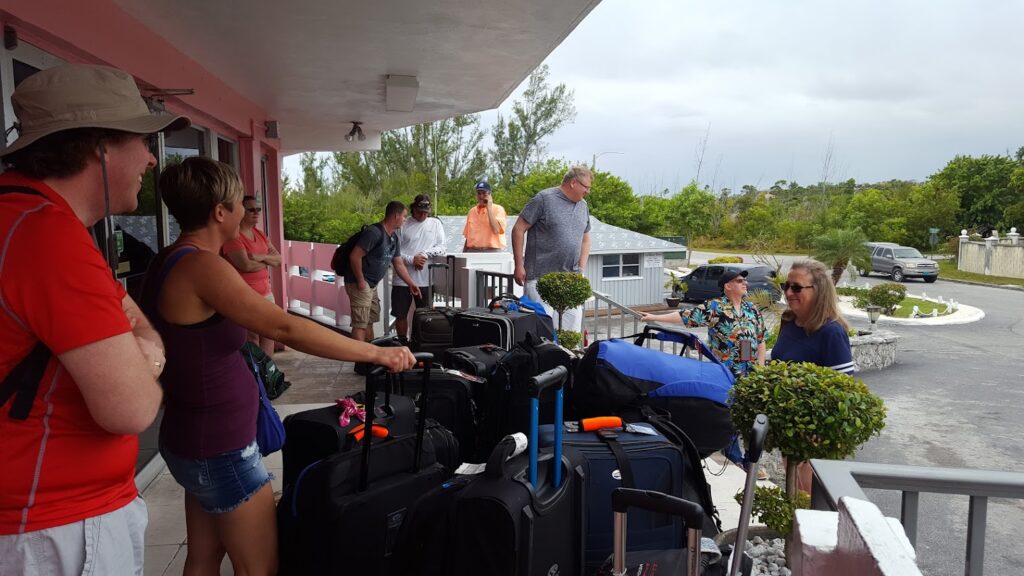 I then moved to the wonderful Bell Channel Inn Hotel (which I can't recommend enough!!) a mere 10 mins away on the same island. It was located near the second dive centre I had researched, UNEXSO. It was at this hotel that fate stepped in. After arriving at the hotel I was given an incredible welcome by the proprietor. She sat down with me in the bar and gave me a free welcome cocktail. She talked through all the sights I could see, activities I could do and also introduced me to conch fritters and grits, both free samples she had the kitchen whip up for me while we chatted!
I went for a stroll into the town, booked in for another double dive for the next day and headed back to the hotel to plan my next moves. As I was planning, it became clear to me that not only is island hopping actually very expensive but also each island had only very few hotels and dive centres… this was going to be a very expensive trip and probably to no avail. As I was wondering what I was going to do, the phone rang. It was the owner who wanted to let me know that a group of divers had booked into the hotel and for a dive the next day and that they were in the bar if I wanted to join them, as she knew I was travelling alone and was a diver. I immediately headed to the bar, which was now a lot busier than when we had sat there earlier. Now it was bustling with people everywhere. I managed to grab a seat at the bar, ordered myself a drink and started chatting to the people next to me. Most of them happened to be golfers there on a golfing trip of some kind. As I was about to move, my ears picked out diving buzz words from the two men on the other side of me so I started chatting to them. Before I knew it I was several drinks down and being persuaded to join them on a liveaboard trip. Turns out they were a part of a group of 14 divers, mostly instructors and tech divers from a dive centre called Davey Bones in Ohio, who were all meeting that evening before starting a 7 night trip to Tiger Beach for a week of shark diving. They had 2 spare spaces on the boat and would give me a very good offer. By the time the rest of the group had arrived I was whisked off to dinner with them, given a rash guard which had been designed for the trip and was part of the family. I awoke the next morning wondering if this slightly booze induced decision really took place. As I headed to breakfast, I met the group who took me in hand, and off we went into the town to buy any staples needed for the trip. In hindsight, this could have been a risky decision, however, I seemed to judge them accurately and they were all an absolute pleasure to spend the week with.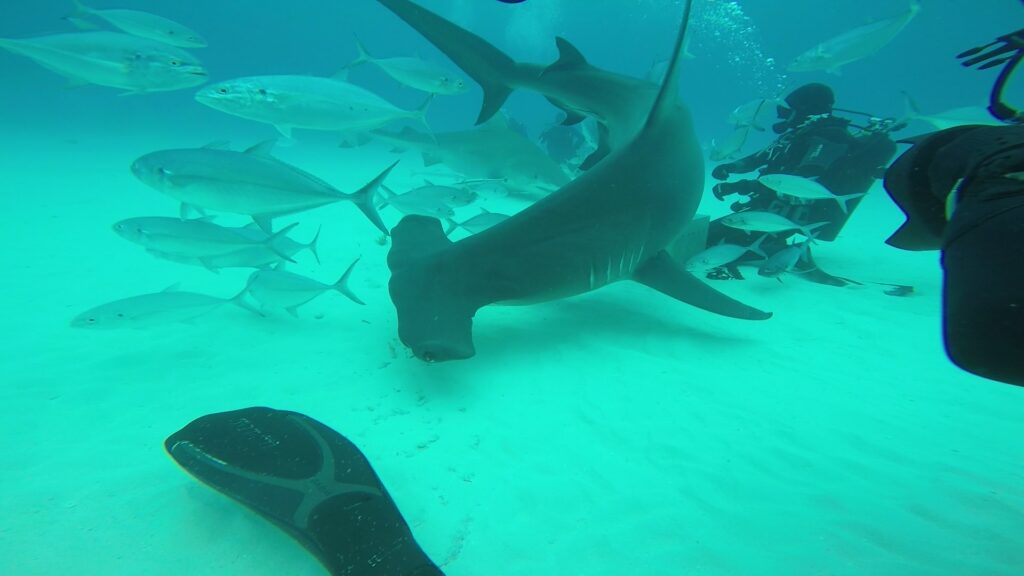 We were taken to the boat and met the wonderful crew of the Bahamas Master livaboard. Admittedly, it was my first and only time on a liveaboard but I was very impressed. The crew were friendly and enthusiastic. My cabin was perfect and the guest areas were comfortable and spacious, with a large deck upstairs with sun loungers and a TV room below.
On the first day we enjoyed lectures from the incredibly knowledgeable crew. We were taught about both the sharks in general, and more specifically about the tiger sharks we would encounter on the trip. The tiger sharks who frequent tiger beach, they explained, are females; either pregnant or the young. This is because when tiger harks are pregnant they head to shallower waters for protection. When they are pregnant they do not hunt but survive only by scavenging. As with most species of sharks, they have long gestational periods, in the case of the tiger shark, between 13 and 18 months. Meaning, tiger sharks can go that whole time without eating. Once the tiger shark is ready to give birth they head to even shallower waters, before going back to the deep.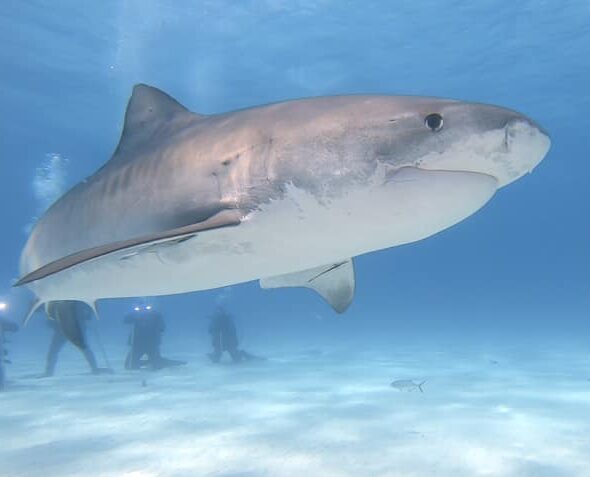 Onboard we had laughs and good times. Everyone had nicknames taped to their tanks, and I was given the name 'snack-size'!
It is common practice at Tiger Beach to feed these sharks but it was explained to us that they are only fed very small fish, not the large tuna heads that occurs elsewhere in the world. Therefore, all they are doing is supporting this scavenging behaviour.
During the lectures they explained to us how the dives would be structured. Each dive would involve the feeder kneeling on the sea bed with a metal box of bait and the divers arranged in a V formation, with the feeder at the vertex. The gap in the V, or "runway" was facing up current. The Tigers would smell the bait and would swim down the runway to the feeder giving the divers amazing views and close encounters of these beautiful creatures. The sharks were only given fish every 4th or 5th time they came to the feeder.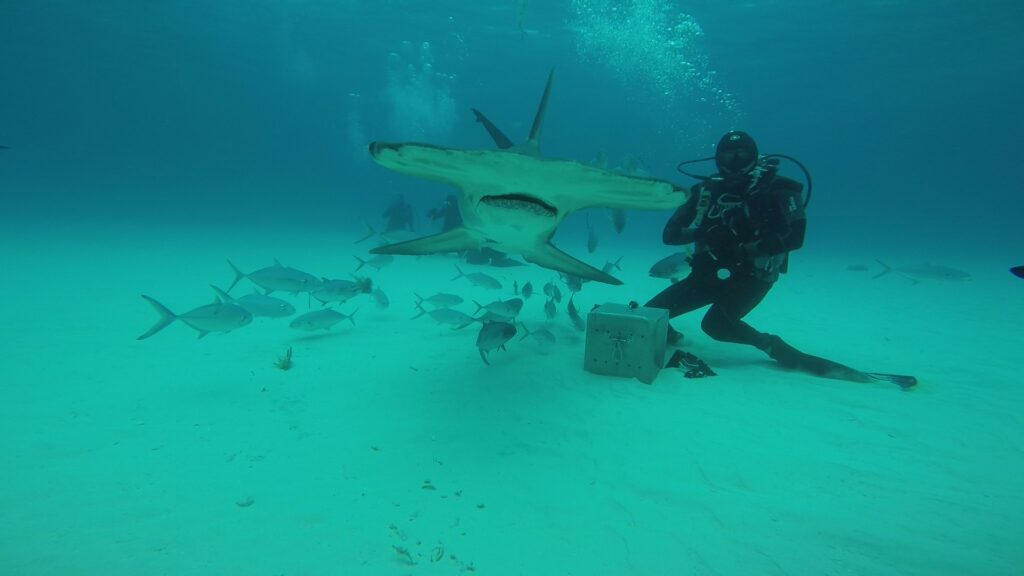 On our trip, we had three crew members who where feeders. They would each do 90 minutes in the water before the next member would come down and take their place. This meant that there was always a crew member in the water and the guests could spend as much or as little of the day in the water as they wished.
Over the week we would spend almost every available sunlit hour in the water with the amazing Tiger sharks of Tiger Beach. Due to the shallow waters and the fact we were simply kneeling in the sand I was able to enjoy 130 minute dives, surfacing only when I reached 50 bar. The feeling of having a 5 meter tiger shark glide in front of you within arm's reach is something words cannot express. Some days we were lucky enough to have up to 8 Tiger sharks and a Great Hammer head shark. There were always plenty of Bull sharks, Caribbean Reef sharks and Lemon sharks all around. It was not uncommon to have lemon shark lie on your fins as they have their mouths cleaned by the remora. I had never before experienced either the sheer amount of sharks or such a beautiful combination of so many species of shark in one area. On one occasion we were lucky enough to have a small pod of dolphins swim past and on another a giant green turtle slowly meandered his way past us.
One of the highlights of liveaboard life for me, apart from the logistical ease of not having to lift or move any dive equipment (the tanks were filled in situ and your gear remained set up ready for your next dive) was the fact that there was always a warm towel waiting for you upon exiting the water – absolute luxury I thought!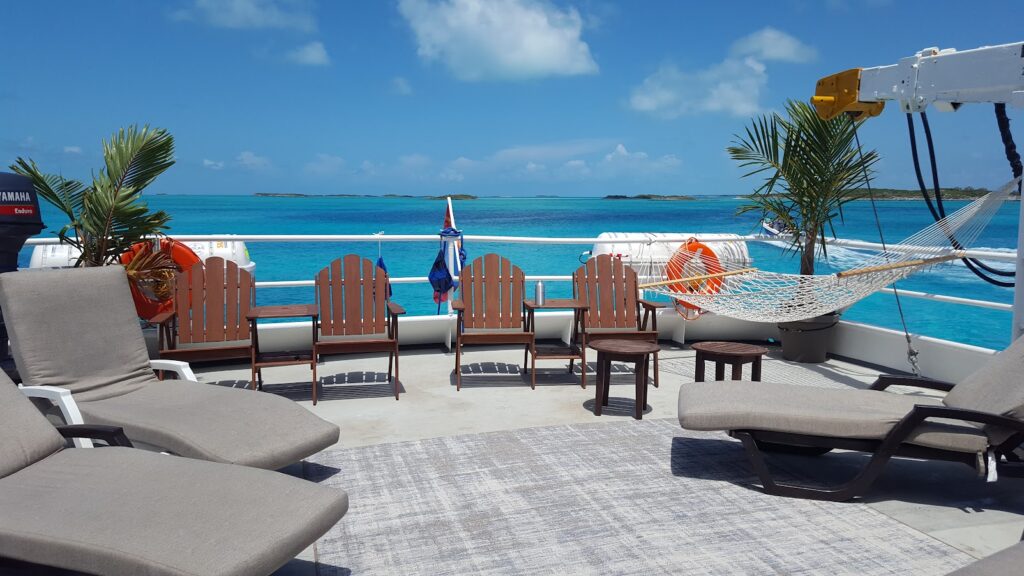 The Ohio divers made wonderful live aboard companions. They were fast starting to feel like family and I was so glad to be experiencing this with them. We could share each other's excitement and passion over the diving and would often sit and enjoy stories or a joke with a beer. They were aware that I am a dive instructor and always looking for the next opportunity. Often they would sing my praises whenever a member of the crew walked past to point of almost quoting my CV loudly. Happily, this worked out very well and on arrival back to the jetty at the end of the trip the manager came aboard and while everyone was enjoying their welcome back cocktails on the boat, I was in the bridge having a kind of interview! I have those amazing Ohio diver to thank for that. I cancelled my hotel which I had booked at Nassau and grabbed the opportunity to stay.
As I waved goodbye to my Ohio diving family, I stayed behind and was immediately put to work, scrubbing down and restocking for the next adventure back to tiger beach.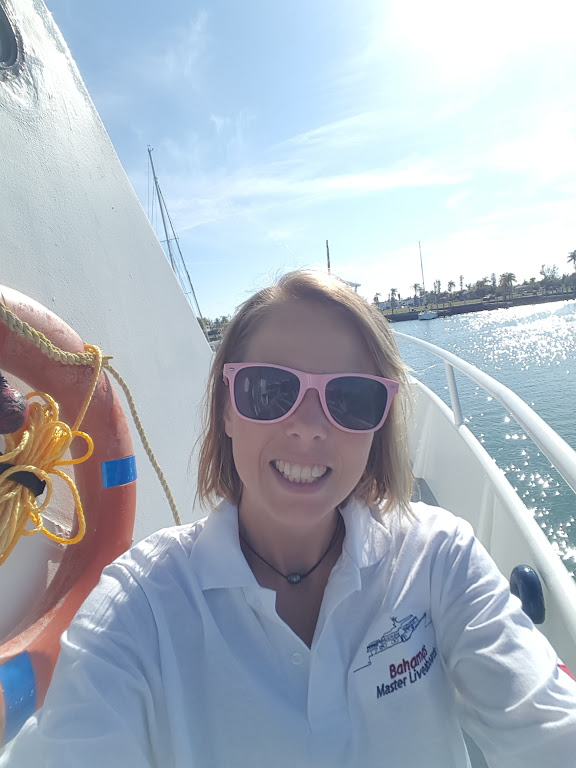 I now had the chance to see the diving from the other side. I had the great fortune to be on-board for another four trips including a 2 week trip in which we travelled all around the islands, including visiting Pig beach in the Exumas and diving with Oceanic White tips off Cat Island. I was taken under the wing of the feeders on the boat. All of whom had their own amazing experiences and worked hard in this field getting to where they are. The one thing they all shared was their clear love for these animals.
My official role was 'host' meaning I was responsible for laying tables for meal times, making sure there was always coffee, drinks and snacks available and stocked up, as well as washing up and general cleaning of the deck area. I generally was only busy around meal times, giving me a fair amount of spare time. The deal was, as long as my job was done I could spend the rest of the time in the water…which is exactly what I did.
Over the next few trips I was trained to be first of all the perfect guest, where I was to observe the sharks and learn their individual behaviours. I watched how they swam, where they each tended to approach from and keep a count of exactly how many there were at all times. After this I progressed to standing behind the feeder, then next to the feeder, before finally being taught how to feed, ending with the finale of feeding my first tiger shark.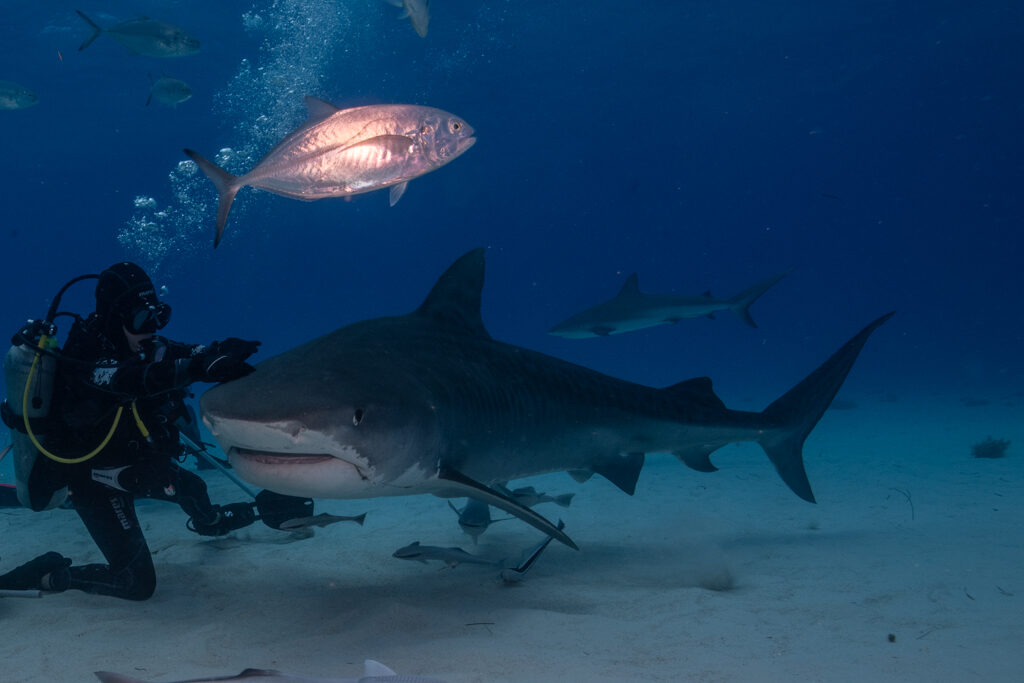 I was completely unaware of just how much energy and concentration it took to be at the bait box. Having to keep an eye on every shark as well as every diver. At first I was able only to do 10 minutes or so before I was completely mentally exhausted. But it amazed me at how quickly at ease you feel with these giants of the ocean, while they swim all around you. And the intense feeling you get when you are so close you can look right in their eyes and feel them looking into your soul.
However, I am still in awe of how those crew were able to stay down for 90 minutes at a time with that level of focus and intensity. I stayed as crew member for several more trips, including a 14 day trip around the islands. One of the islands we visited was Pig island. Famous for the presence of wild pigs who live on the beach and swim the waters. We moored up for the day and the guests were free to go ashore as the wished. It was required that there be two members staff on the beach, needless to say I volunteered. Myself and another spend the entire day on the beach, drinking beers and swimming with the pigs. It was a wonderful day – a day when you have to continually remind yourself that 'I'm getting paid to do this!'. A far cry from nursing, when I would regularly find myself in bizarre situations and thinking, 'is this my life?' I did however, thanks to forgetting to pack any sunscreen and seek any form of shade, end up with the worst case of sunburn I have suffered so far. I had to spend the rest of the trip suffering. Every movement was agony, the touch of my shirt against my tender skin was unbearable. I couldn't even bear the idea of donning a wetsuit for about another week!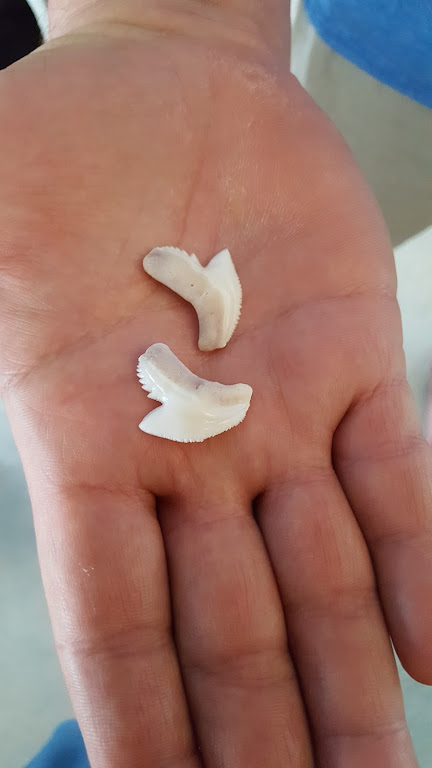 Tigers are truly magical, beautiful sharks who I now have a whole new understanding of and can share the love that the feeders have for them. Perhaps the greatest part of my whole Bahamian experience was spending time with the crew and being able to talk to them, be taught by them and learn from them. I learned to recognise the tiger sharks by name and became more aware of their individual behaviours. I was also able to learn more from the crew about shark behaviour and more about their methods and reasons for feeding these sharks.
It is clear that educating and dispelling myths about sharks is key. People need to care about sharks before they will commit to protecting them and this company does just that.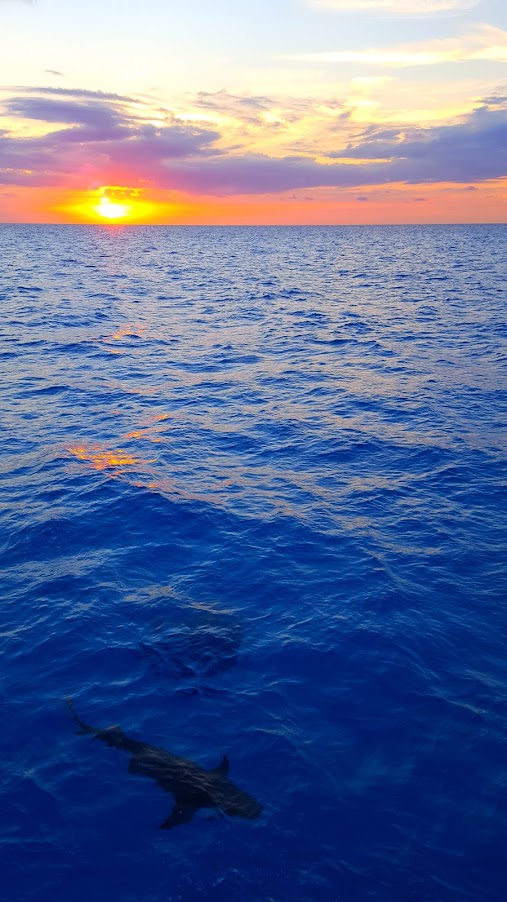 At the end of each trip the guests would have the opportunity to write on the white board on the deck, both the myths, that since being on board, they know now to be untrue, as well as new shark facts that they had learnt. Every time, the board was full! So you could argue against the feeding of sharks and baiting water, and I still remain unsure and will continue to further my knowledge and experience on the subject: but for sure, every diver who went aboard, came off with a greater knowledge and respect of sharks with at least one piece of information that they thought to be true but is not and absolutely went on to tell everybody they know how amazing their trip was and how amazing, beautiful and important sharks are. A message that is so important. All my non-diver friends and family gives a shocked face and praise the fact that I came back with all limbs intact, before I am able to correct them and let them know the truth about sharks and put an end to this destructive false reputation they have been unduly given.