Divemaster Intern with Pacific Divers in Rarotonga
On arriving back in the UK from my volunteer project in Fiji, I was certain about one thing: I wanted to continue diving. I had no idea what my future plans would involve, but I knew all I wanted to do for now was dive! I discovered from some internet research, that you could intern at a dive center while they train you to divemaster. The programme I was drawn to was a six month internship with Pacific Divers in Rarotonga; a small island in the Cook Islands about 4 hours north of New Zealand. I enrolled myself on to the programme and prepared to relocate to another paradise.
In Rarotonga I was met at the airport, to my surprise, by the Course Director and two of the other interns (to my surprise because I had landed at 3am).  The two other interns were enjoying a night out and had decided to come to the airport to meet me quickly before heading back into town. The Course Director drove me and dropped me off at my new home. A lovely house down a quiet road which I would be sharing with 4 other interns. As it was 3 in the morning and I was crazy jetlagged, I fell straight into bed and slept.  In the morning I awoke in my new home, my new housemates were at work already so after a quick look around, I unpacked and headed off to the dive centre, where I met the three other interns and the staff and I was put to work the very next day.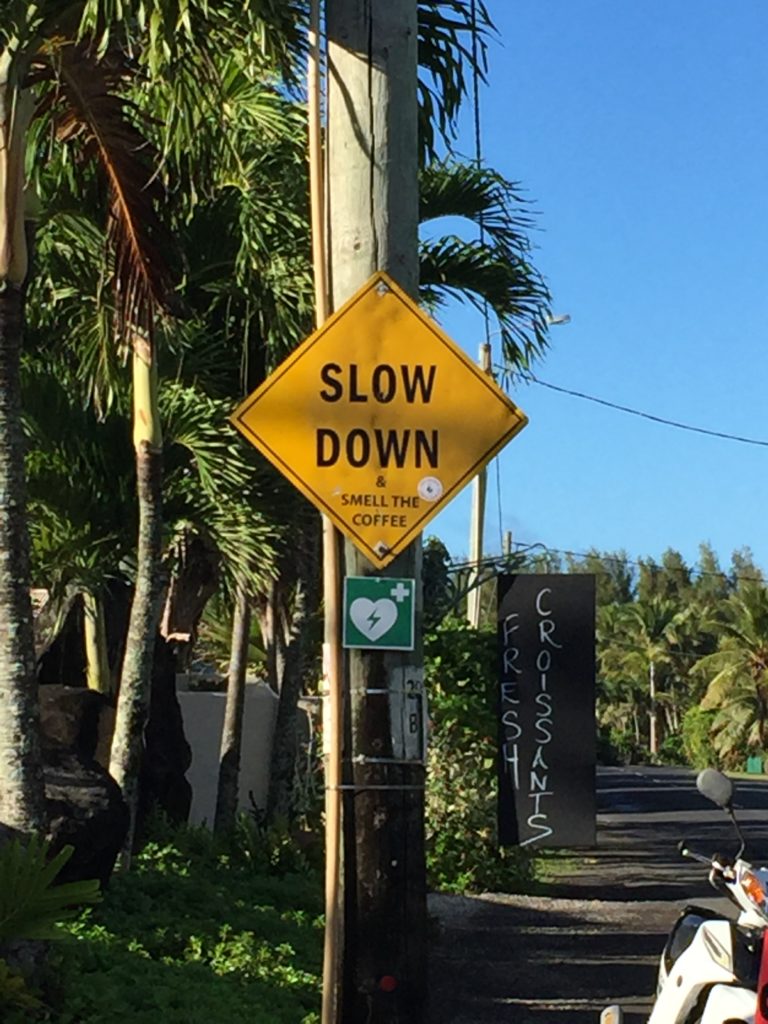 We would spend our days at the dive centre either diving and/or helping out on the boat or sitting at the dive centre, studying our manuals. Our days were filled with loading and organising dive equipment for the guests, carrying tanks, assisting divers, filling tanks, cleaning the centre and driving the van.  Very quickly it became second nature to prepare and test dive gear.  I also think my fellow interns would agree to me saying I become quite the expert or at least a very determined sweeper, sweeping sand from the equipment room whenever I found myself at a loose end, a thankless and never ending task. 
It was the perfect mix for me of stunning island life and a challenging meaningful test of myself.  The course director was a great support and very keen that everyone be able to solve and fix problems themselves giving me a well rounded learning of not only diving but general life skills.  Every experience was a learning experience: When the van got a flat tyre we would have to change it, when the equipment became faulty we were taught how to repair it. And then of course there was the trailer. The dive centre was a 15 minute drive from the jetty, so every dive trip involved getting the van to and from the jetty with the guests and the trailer of equipment. Every time a new intern started, they had to learn to drive the van with the trailer on the back, including reversing into the drive of the dive centre. We all spent many hours practicing and laughing at each others attempts to reverse around the awkward angle of the drive, entertaining anyone who was passing by.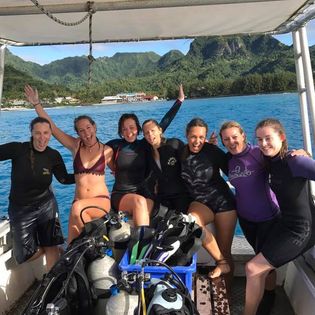 Another skill I learned during my time in Rarotonga, was to drive a scooter. An absolute must if you live in Raro!  Having never been good at driving anything with two wheels (embarrassingly, not even a bicycle!) I had to not only purchase my very own scooter, but also learn how to drive it.  I remember the test drive of my scooter on my day off.  I straddled the machine and was shocked at the weight of it.  I started the engine and although I thought I was faking my confidence fairly nicely – the look from the lady who owned the dealership suggested otherwise!  I revved the engine, and off the bike went, thankfully with me still on it, just!  It went a little faster than I had anticipated and shaking and swerving I drove off and only narrowly managed to avoid crashing into the various parked cars in the lot.  Happily, I managed not to crash into anything and agreed to buy it. The dealership, however, was on the opposite side of the island and I was not confident to take it the road just yet. Kindly, a friend agreed to go and collect my new scooter and drive it back for me. I learned to drive my new scooter thanks to the assistance of my one of the girls I lived with.  She sat on the back, very bravely and instructed me from there.  We drove up and down the back road, and slowly my confidence grew. Before long I was driving around the island – no problem!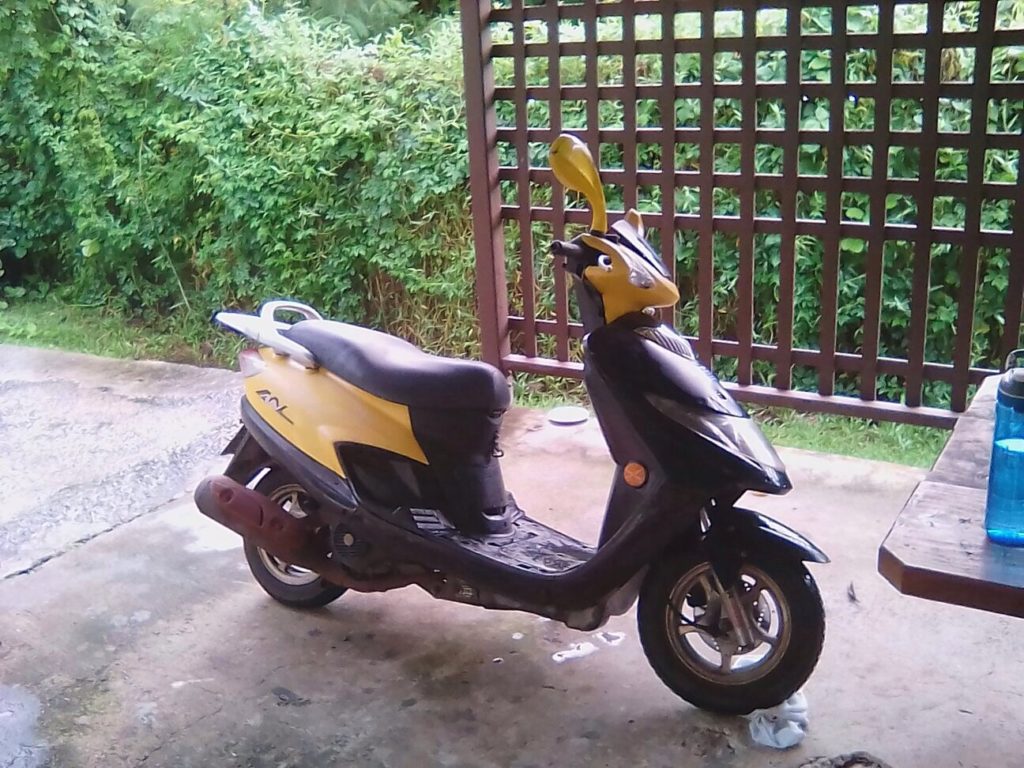 We all owned scooters and the driveway to our house always looked like the residence of a Rarotonga-type biker gang.  Each of our bikes was second hand and not best quality and in turn each required a unique technique to operate them.  One inexplicably had to hug his bike before it would start.  Mine had to be kicked in a certain way at exactly the right time in order to start it.  For added fun, the lights would sporadically turn off when going over and bump and then turn back on the next bump.  All good fun! I of course, along with everyone else got my 'Rarotonga tattoo' (muffler burn). Although I managed to get mine on the wrong side…. We had all driven into town and parked close to each other, as I climbed off my bike my leg hit the muffler of the bike next to me resulting in my proud Raro tattoo… but on the wrong leg!
We were lucky enough to be diving almost every day and I could feel the improvement.  The first three months of the internship I remember involving mostly 'fun dives'.  Whenever possible, the interns were allowed to join the dives and our job was to stay at the back of the group.  The water in Rarotonga is as clear as I had ever seen and the most beautiful shade of blue.  A standard 30 meter visibility with perfect white sand and stunning drop offs.  The marine life consisted of turtles, reef sharks and tropical fish.  As time went on, more interns joined and our family grew until there was such a large group of us that we had to move into another house.  I and three others were the lucky ones who moved to the new house, situated right on the beach.  We would go snorkelling on our days off straight from the house and within a few meters would be swimming with more turtles than we could count.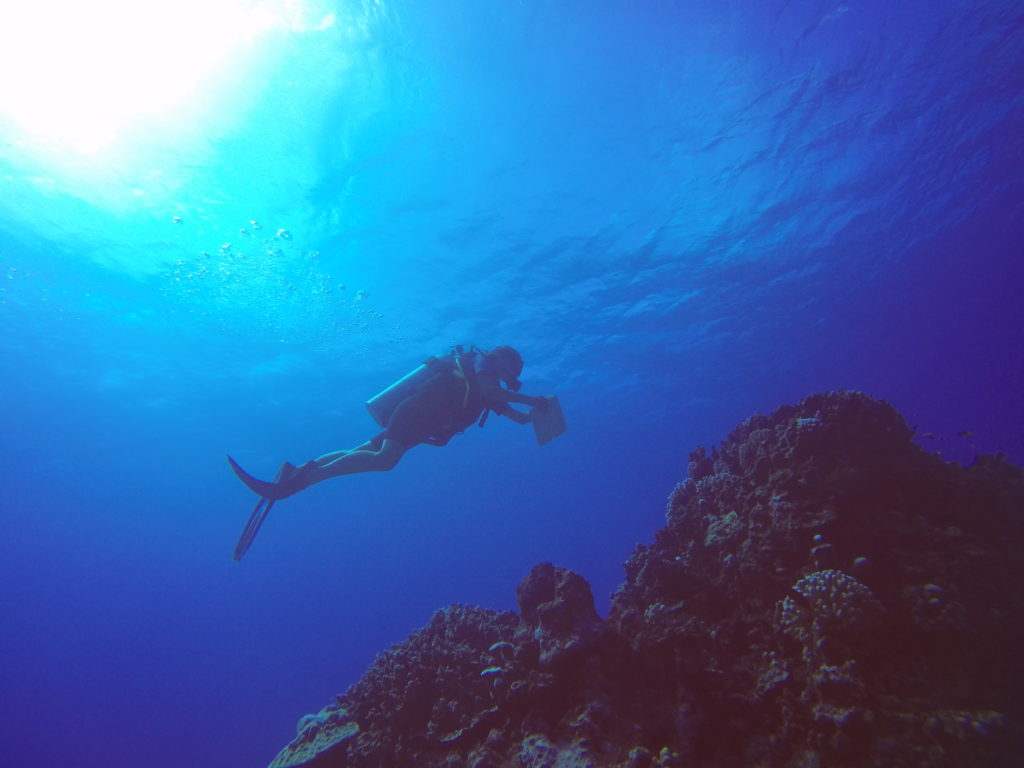 On the journey to PADI Divemaster, I of course achieved PADI Rescue Diver. In my opinion the toughest course. You are really put to the test learning how to deal with your own stress, how to respond to panicked divers, learn in-water rescue techniques and conduct underwater searches. From there, the PADI Divemaster course steps up the game; perfecting dive techniques and learning to become a professional diver. We would spend hours with our heads in the books trying to understand and learn all the surprisingly complex theory. Various scientific laws relating to heat, volume and density; physiology including basic anatomy, narcosis, decompression illness and lung overexpansion injuries; equipment knowledge like how the 1st and 2nd stages on the regulator function and various valves on cylinders; and environmental theory like learning the ocean zones, tides and currents. Any other free time was spent in the pool perfecting the 24 dive skills. Among them countless hours practicing the perfect hover and mask removal.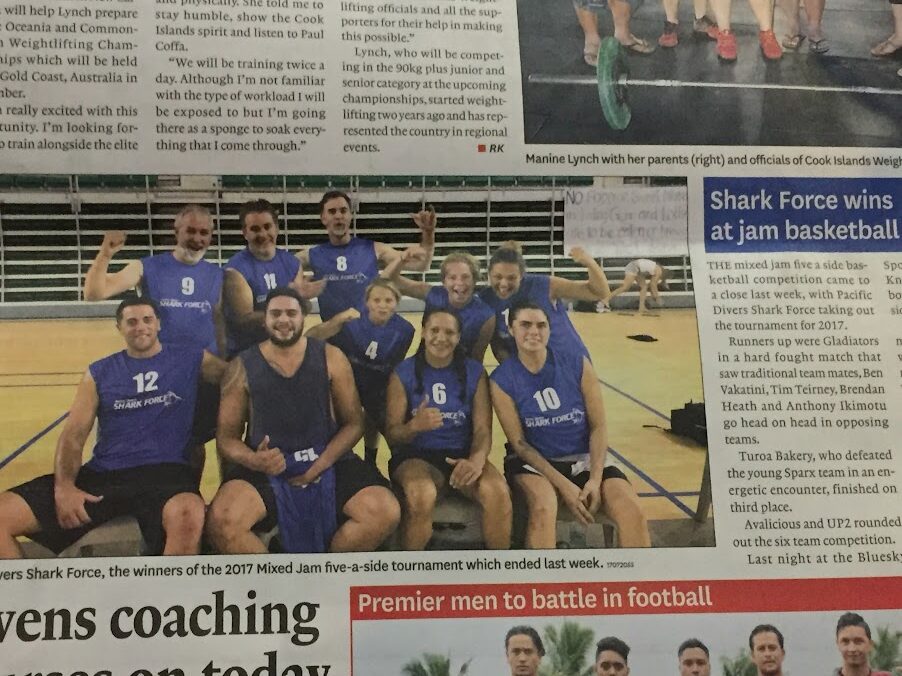 We would be at the beach doing our swimming tests and the dreaded underwater equipment exchange (you and another intern swapping all equipment while buddy breathing from one regulator) and would practice underwater navigation and mapping dive sites.  We participated in clean up dives and made good use of lifting bags to help clear the ocean of the larger items we found.  But we weren't only a team for work; a few of us joined the basket ball team 'Shark Force', captained by our Course Director and in fact went on to win the basketball league! Although on the day of the final match, the opposing team was down one player. I volunteered to play for their team so the match could still go ahead, so I put on their jersey and played the match. Shark Force won that game and therefore the league. The newspaper was there to take a photo of the champions, not wanting be left out, I made a quick change. I took the jersey I wearing off, put the Shark Force jersey on and jumped into the photo!
The social life in Rarotonga was perfect and when we weren't hanging around our gorgeous beach front house, we would often meet up at the local restaurants, beach front bars and once a week would meet for a coffee before work at the nearest café.  Whenever a new intern came or left, we would organise the legendary 'Party Bus'.  This was an open roof bus, with music, lights and a BYO policy. It drives around the island picking up people before stopping off at various bars before it reaches the local night club; a must do night out when in Rarotonga!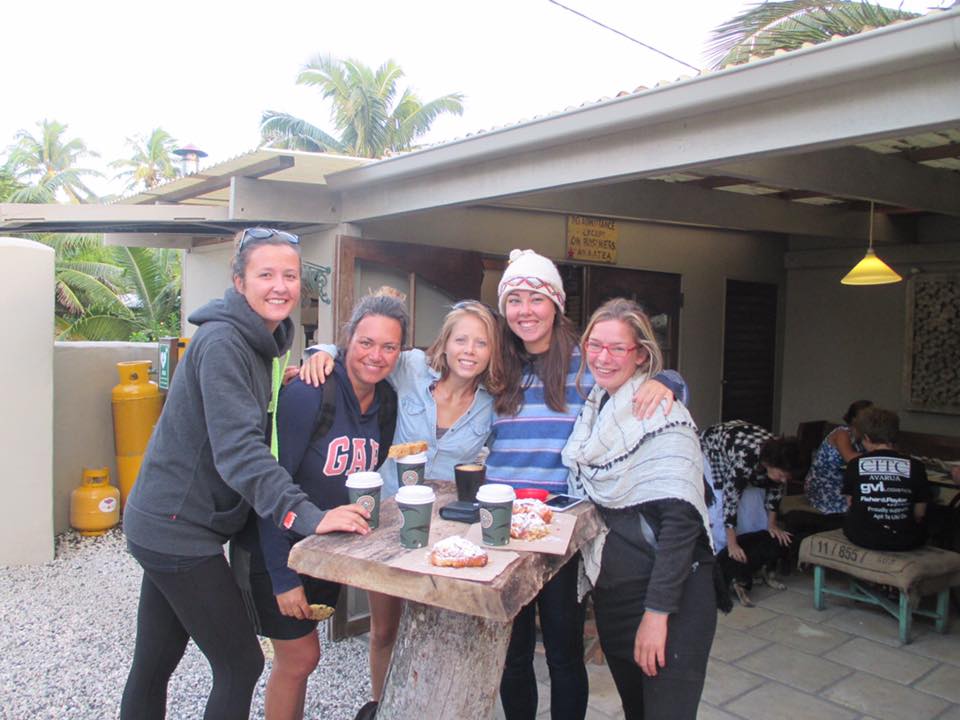 We completed our PADI Divemaster, an absolutely huge achievement for myself!  We celebrated as every new divemaster does with a 'snorkel test'; The new divemaster don's a blacked out mask with snorkel. The certifying instructor then pours an unholy concoction of alcohol down the snorkel! This was followed, of course, with a night on the party bus!
Not long after, there was talk of some of continuing to Instructor level.  The PADI Instructor Development Course (IDC) is a 10 day course culminating in the Instructor Exam (IE). It is incredibly intensive and known to break you down in order to build you up. Turns out our Course Director was running an IDC for some of the other intern, which was due to start in the next weeks. Completing this would certify me an PADI Open Water Instructor, a level I was not sure I was ready for, but, rather apprehensively, I decided to go for it!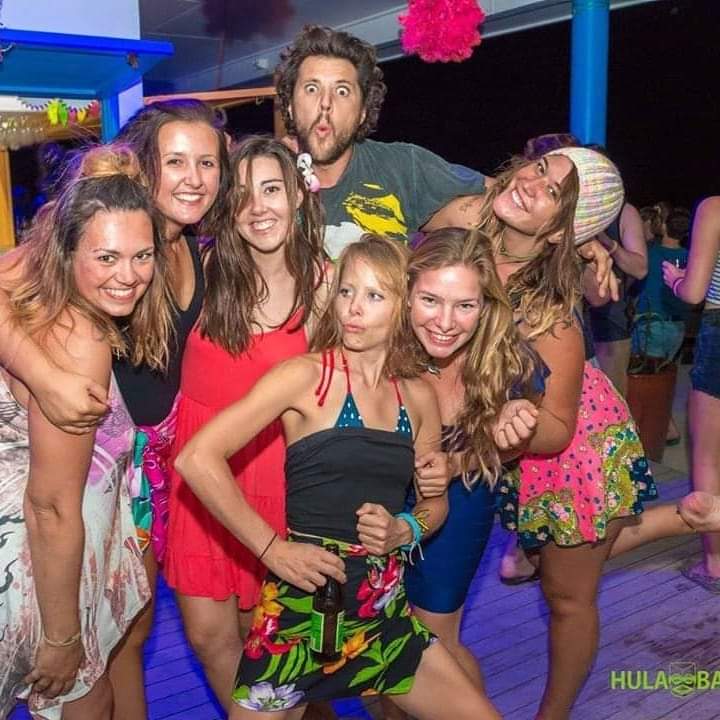 There were 5 of us on the 3 week course. The wonderful thing about the IDC is that you really become a team, if one of you does badly you all do badly, if one of you falls behind, everybody stops to pull them back so when you cross the finish line you are there all together crossing as a team. We worked with each other, tested each other, spent hours and hours in the pool perfecting our skills until we were all ready for the Instructor Exam (IE). This consists of two days of theory exams and practical demonstrations in the pool and the open water. Perhaps the most nerve-racking two days of my life. I knew from the amount of tension I felt waiting to hear whether I had passed that diving meant so much to me; and when you and every one of the team gets that handshake; the feeling is overwhelming.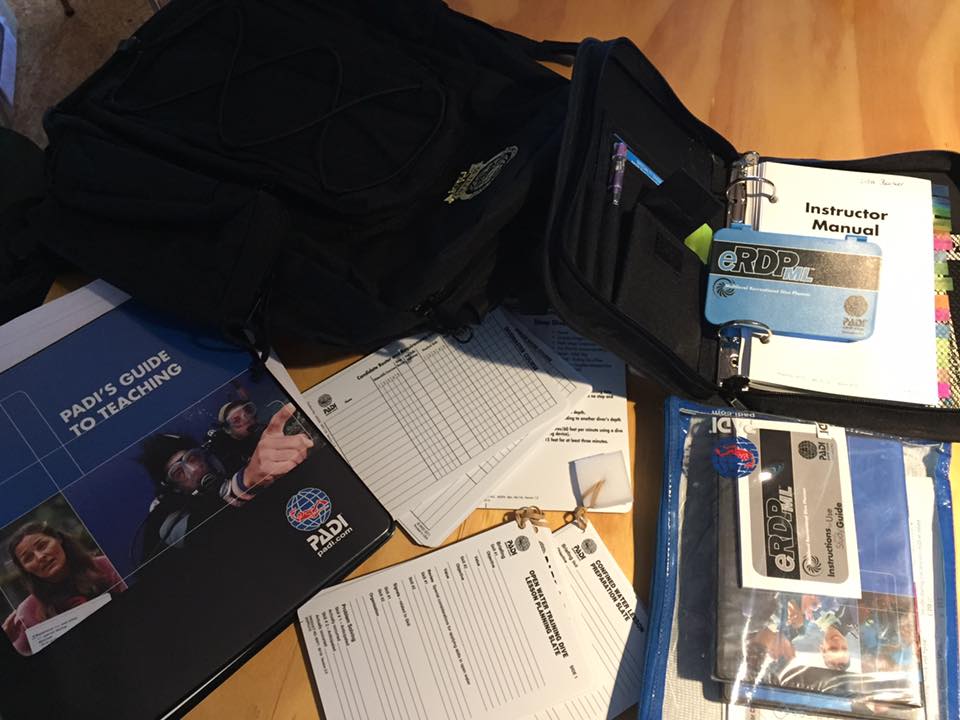 I stayed in Rarotonga only for another month or so.  I was indecisive and unsure what to do. On one side, I wanted to stay, taking the job offered at the dive centre. I loved this island, the people and the work. However, I had only just started my adventure and I was desperate to continue travelling to different countries and trying new experiences.  I was sure Rarotonga was where I wanted to end up but I wasn't ready to settle down just yet, there was so much more I wanted to do first
Rightly or wrongly, I decided to leave Rarotonga in search of different adventures.  I will never forget my time in the Cook Islands and the people I met and worked with, who I consider to be my Rarotonga family.  They say that it is the people who you are with that shape your experience and I consider it to be one of my finest.  I do hope to return to Rarotonga one day, one of my most favourite places and maybe even return to Pacific Divers, where I keep some of my most treasured memories.